Santa Store
It's that time of year again! Time to make the children we serve feel extra special! The holidays can be a trying time for families who are in the process of rebuilding their lives after abuse.
The Santa Store will offer gifts generously donated by the community and will be available for clients to "shop" for their children. The children will also be given the opportunity to shop for their moms. So, don't forget the moms, or the teenagers!
Gift suggestions include:
New, Unwrapped: Toys, Bicycles, Games, Electronics, Clothing & Accessories
Gift Cards from Wal-Mart or Target or Kroger (all denominations are welcome, $20 gift cards preferred)
Please see a full list of items on our clients' wish list this year below:
2019 Santa Store Wish List
Donation Deadline:  Tuesday, December 17th, 2019 
Donations can be dropped off between 1 pm and 5 pm Monday-Friday. To arrange for drop-off, please contact Becky Watts at 281-344-5759, bwatts@fbwc.org or call our Administrative office at  281-344-5750
Thank you for making a difference in the lives of those affected by domestic violence and sexual assault this holiday season!
Please contact Becky Watts at bwatts@fbwc.org if you have questions.
---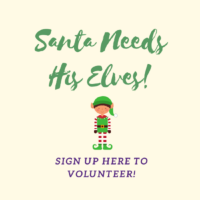 Apply to be an elf this year and help us give a Merry Christmas to our clients and their children.  Application must be completed.
Sign up to volunteer.