Volunteer Directly with Survivors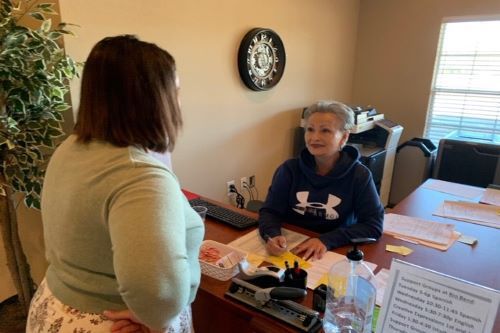 Thank you for your interest in helping survivors of domestic violence & sexual assault.
As a STARS volunteer, you have the opportunity to work directly with victims in crisis and their children. These positions all require our 40-hour New Advocate Training in addition to program-specific training and observation. You must be 21 years of age or older. Prior to the training, please plan to attend orientation and meet with the Volunteer Engagement Manager to ensure you are a good fit for the position. See the descriptions below for more information and check the ones that interest you on the application. All of these positions require a criminal background check done before starting.
Client-Based Advocate Services – Complete OAG Training required
Child Mentor – Help a child weekly with homework, play games, be a friend and a good role model.  Help children by providing care while their parent attends therapy or counseling.
Connectivity Advocates – Are you interested in engagement opportunities with our active and inactive clients?  Connect by phone, email, or home visits.  As their advocate, listen for any needs they may have and provide resources available to them. Assist with accuracy and maintenance of client records.   
Community Ambassador – Do you love talking to people? Help educate and share Fort Bend Women's Center's mission making the community aware of the services available for victims of domestic violence and sexual assault.  
*Hospital Accompaniment Response Team- HART – Can you be available and on-call once a month to answer the HART call?  This position requires one weekend per month commitment to answer the call and quickly arrive at the hospital where a victim of sexual assault has arrived.  You must shadow staff two times before you attend solo.  The shift is Friday 5 pm – Sunday 11:59 pm.
Life and Wellness Advocate - Provide activities or workshops which promote health, wellness, and innovative support services, including arts and crafts.  Activities must be pre-approved.
Neuro-Feedback Assistant – Work with the Neurofeedback Clinician Mentor to receive training on measuring the head and learning the hook-up process for neuro sessions, and conducting routine EEG procedures, including cleaning and maintaining equipment supplies. 
Pantry Provisions Coordinator – We love our donors and want to make sure donations are appropriately stored and used as donors intended.  Maintain donations and help move merchandise to those in need.   Includes creating food boxes to distribute to clients.  The ideal candidate would be available on Tuesday or Thursday between 10 am – 2 pm, but not required.
*Support Group Facilitator - Serve as a facilitator in small groups providing support and encouragement to families. It's all about connecting with our clients and helping them through curriculum-based activities and support.  Another great way to connect with clients and their families. Facilitator training required. 
Unique Boutique Coordinator – Help set-up an adult boutique with donated items that clients love to receive.  Set-up and tear-down are required.  Clients receive "play bucks" for actions that help them, such as keeping a counseling appointment, attending a class, helping by cleaning the dining area, or just brightening someone's day.  Clients exchange their "play bucks" for items such as crock pots, jewelry, housewares, etc.
Indirect Services - No training required - Must be at least 15 years of age to volunteer at PennyWise
PennyWise Resale Stores - Be a part of a dynamic team that helped make PennyWise 2019 Fort Bend Star's Readers' Choice Award for the Best Resale Shop and Best Children's Clothing Store!  Volunteers are crucial to the operations of each store.  With your "can do" attitude, donations of merchandise can be received, sorted, organized, and put out on the sales floor.  Here are some of the ways you can serve:

Sales Floor Associate - Help create attractive displays, organize shelves and clothing racks to optimize merchandise visibility and sales. With your exceptional customer service skills, welcome shoppers and assist with inquiries.
Receiving Room Coordinator – Help uncover the beautiful donations received, mark merchandise, and sort through donations to ensure a quality product goes to the sales floor, 
Donation Greeter - Help us offer exceptional curbside service to our donors. Show our appreciation to donors by unloading donations, thanking them, and providing a receipt.
Jewelry Merchandiser - Be a gem and join the jewelry team. Sort and tag donations for the sales floor. Richmond store location only
            PennyWise Resale Store locations:
                      Richmond:  501 Highway 90A East, Richmond, TX 77406
                      Stafford: 13645 Murphy Rd, Stafford, TX 77477
                      Mission Bend:  6808 Highway 6 South at Bellaire, Houston, TX 77083
                      Katy:  323 S. Mason Road, Katy, TX  77450
                      Missouri City Donation Center:  4737 Highway 6 South, Missouri City, TX 77459
Office and Administrative Support – Come on board and use your administrative and communication skills while helping with general office tasks, answering inquiries, and meeting guests.  Must be comfortable with computers and have an upbeat attitude.
 Fundraising Events – Join a fundraising committee where your creativity and network of friends and ideas come together to help support FBWC programs thrive!  Use your skills on a decorating committee, or help with hospitality, silent auction, activities for an event, help with logistics, bartending and much more!   The Fundraising team is a great way to meet friends and socialize with others while helping the mission of FBWC.
Special Projects – We have opportunities for individuals or organizations to do some team building while serving others.  We can customize a unique project based on your strengths and skills.  We have opportunities for painting, pruning, beautifying our surroundings, general clean-up.  Adjusting the surroundings of an environment can dramatically improve one's mental health! Let's get started!
To get started, please fill out the Volunteer Application, contact us, or attend a Volunteer Orientation.
Becky Watts | Volunteer Engagement Manager | 281-344-5759 | bwatts@fbwc.org
Thank you for bringing Healing & Hope to survivors of domestic violence and sexual assault. We can't do it without you!