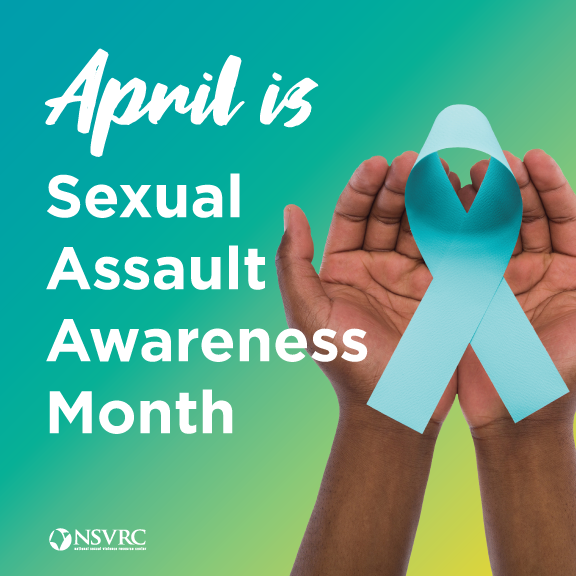 Every year, people ask me what the purpose of Sexual Assault Awareness Month (SAAM) is. It's not like the world doesn't know that sexual assault exists. While in a way that's true, there are still quite a few misconceptions about sexual assault. Many people associate it with stranger rape, but 8 out of 10 assaults occur at the hands of someone the survivor knows. Others may think sexual assault usually occurs at parties or when a woman is out at night alone, but it occurs even more often in the survivors' homes, at church, at school or work events. SAAM is about addressing these misconceptions and providing the public with accurate information so that we can prevent and destigmatize sexual assault.
SAAM is something that I look forward to every year, not because I enjoy the topic but because I love seeing so many people come together to raise awareness for survivors. Having thousands of people speaking about this issue is giving survivors resources, it is destigmatizing what happened to them, and it can even provide a safe space for them to speak out about what they experienced. For me, it was the first time I realized that I wasn't alone, that I could have a voice and that what happened was not my fault. This awareness campaign was life-changing for me and it can be for many other survivors as well.
So be a part of that change this month. Let your voice be heard!
Here's how you can make a difference this month:
Light up our feed TEAL! Follow us on Social Media and make your voice heard by posting photos of your teal using the hashtags #FbwcGoesTeal #SAAM #281-342-HELP
Share your story on our page @ftbendwomensctr

Make a donation

in honor of a survivor you know.
Reach out to a victim and let them know they are not alone. With families even more isolated now, support is needed more than ever. Remind them that there is a place to call for safety. Our

24-hour Hotline:

 

281-342-4357

.

Find other ways to give

to survivors during the COVID-19 pandemic, keeping social distancing a priority.