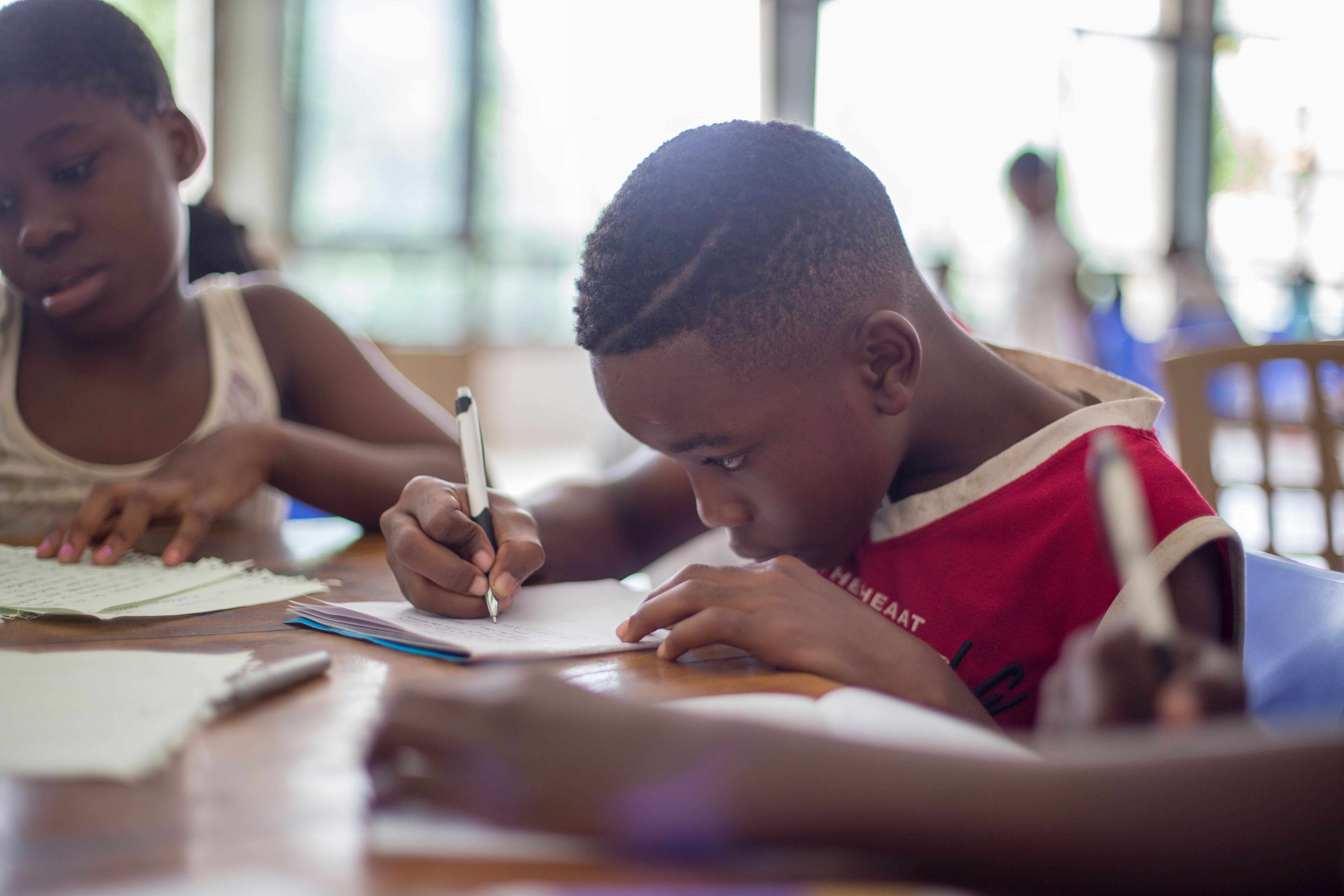 FBWC Emergency Shelter Child Mentor, Bernie, returned to work after a memorable vacation and was welcomed back only to be warned about the newest kid to arrive to our Emergency Shelter, Ernie*. His behavior was so troubling that some shelter clients even referred to him as a "menace". Bernie, determined to put her passion to work and reach young Ernie, began to put together a plan to help.
Then she heard it…. SCREAMS rang out and she saw volunteers evacuating the classroom.
"I DO NOT WANT TO DO MY HOMEWORK!" Ernie fumed.
Once Ernie had calmed down, Bernie introduced herself to Ernie's mother and gently probed for underlying issues affecting his behavior.  "How is he doing in school?" she asked. "Not good." the mom replied. "He is misunderstood by everyone and doesn't get the help he needs at school. I wish people knew what a great kid he actually is once you look past his flaws and get to know him."
Bernie could tell Ernie's mother just wanted her son to have a normal life. As a Child Mentor, Bernie's job along with her coworkers Claudia and Ro, is to help children feel safe and thrive while adjusting to shelter life. They teamed up to help, with Claudia serving as a sounding board for the mom while Ro went to talk to the school. Bernie's job was to work one-on-one with Ernie, specifically to address the dreaded homework issue. Ernie was infamous for running away or claiming he "lost" his homework. Bernie surprised him by having copies of his homework in her desk! After several weeks of struggle, he began to look for Bernie right after school, eager to start his homework.
Bernie's secret? She used homework time as an opportunity to talk to Ernie about himself. She discovered he was being bullied at school and it was affecting the way he viewed himself. Just with this technique, over time, Ernie started to believe he was as amazing as Bernie, Ro and Claudia kept telling him he was.
One day, Bernie had a special gift for Ernie and his family. "Hey guys, guess what! Thanks to a donor, you are going to a Houston Astros game in style! We're talking snacks, swag and the whole deal!" Ernie's mom started to cry.  "It's the first time we will get to go on a trip as a family and the first time we will go to a baseball game together!"  Bernie knew the best part of the gift was just getting to feel like a normal family on a fun outing.
Eventually Ernie and his family left the shelter for a new home and a better education. As always, it was hard for Bernie to say goodbye. With his newfound confidence, Ernie was ready to start a new life free of violence and fear, and hopefully full of future ballgames!
Many of the children that enter our Shelter are a lot like Ernie. Numerous studies on children exposed to adult domestic violence have indicated children's responses to violence may vary. But like Ernie, many exhibit aggressive, fearful and antisocial behaviors, resulting in lower social competence, and poor academic performance. FBWC children's programs are an integral piece in helping children recover from the damage childhood domestic violence has on our "little survivors," helping to break the cycle of family violence.
If you would like to help other children like Ernie, please donate to our Measure Up Campaign preparing children survivors for the upcoming school year. You can help here: Measure Up 4 Kids