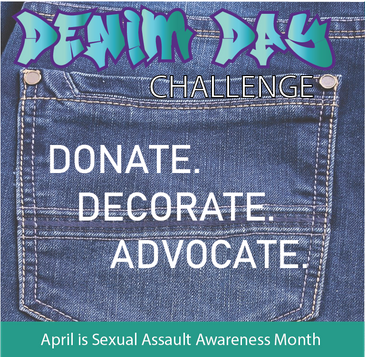 In 2020, Fort Bend Women's Center served 1758 survivors of domestic violence and sexual assault. These survivors have endured unthinkable abuse and are on their way to a self-sufficient life, free of violence and fear. And, we have YOU to thank for that! But, so many more survivors need YOU! This month, we are recognizing Denim Day for Sexual Assault Awareness with a Denim Day Challenge. 
In 1992, a 19-year-old girl was sexually assaulted by a driving instructor during her very first driving lesson in Rome, Italy. When the girl reported the incident, the assailant was convicted of rape and sentenced to prison. But, soon after, the driving instructor appealed his sentence, claiming that the sex was consensual. To many's surprise, he was released, and the conviction was overturned by the Italian High Court. Why? Because the girl was said to be wearing "very tight jeans." It was claimed that she had to help remove them, and by removing the jeans, the court considered it consensual sex... no longer rape. This became known as the "jeans alibi." Enraged by the verdict, women in Italian Parliament launched a protest wearing jeans on the steps on the Supreme Court. Gaining international attention, it became known as "Denim Day," where supporters all over the world wear denim to support sexual assault survivors.
Denim Day is officially on April 28, but we want to honor it all month long to help more victims like this 19-year old Italian girl. So, we created the Denim Day Challenge! A chance for YOU to make a difference right from home. There are three ways to get involved: 
Many more survivors need our help and we can't do that without YOU! Donate today and join us in the fight against Sexual Assault. 
For more information, visit: Denim Day Challenge
For questions: Contact Patty Holt, Events Manager at 281-344-5761 or pholt@fbwc.org.