Journey of Hope Celebration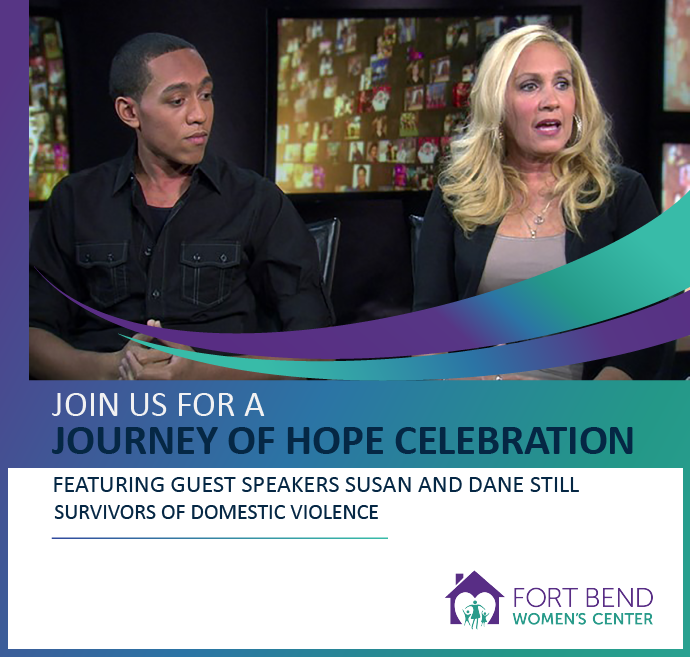 THANK YOU FOR JOINING US FOR A NIGHT OF CELEBRATING SURVIVORS! WE CAN'T DO IT WITHOUT YOU! CHECK BACK FOR SOME GREAT SHOTS FROM THE EVENT! If you would like to make a donation in honor of survivors, please click here to be brought to our donate page: https://one.bidpal.net/fbwcjourney/browse/donation(details:item/1)
Don't miss our biggest event of the year! From guest speakers to live music, it will be an unforgettable, mission-packed evening, where we can gather together again serving survivors and their children. Space is limited, so get your sponsorship while you still can!
Journey of Hope will be a unique and exclusive event, showcasing Rio Bend, our community serving survivors of Domestic Violence and Sexual Assault.
The evening kicks off with an up-close and intimate interview with Susan and Dane Still, a mother and son who will share their personal story of escaping 24 years of abuse. Their extraordinary situation resulted in a landmark court case with the longest sentence ever given in New York State for the crime of domestic violence, where the victim survived.
After the interview, enjoy dinner and drinks, live music, and a chance to once again be together in support of our important mission. Enter our Journey of Hope Raffle where you could win the getaway of a lifetime, or place your bids with our online auction offering over 200 items featuring trips, jewelry, designer handbags, sports packages and more!
Since 1980, Fort Bend Women's Center has helped over 52,000 survivors of domestic violence and sexual assault to heal from the trauma of their abuse and move forward to independent lives free of violence and fear. Please help us continue the 41-year Journey of Hope for survivors. Stand with Us against domestic violence and sexual assault. Together, we can rebuild lives, creating a future of hope for survivors and their children on their journey to independence.
To learn more about our Special Guest Speakers, place your bids, purchase raffle tickets or donate, see Related Links below.