How does PennyWise make a difference for survivors?
When you donate or shop at one of our PennyWise Resale Stores, you are providing items for survivors in need AND providing much needed funds to make it possible to bring vital services to survivors of domestic violence and sexual assault. We can change lives together!
PennyWise Resale Stores
Click here for Store Locations!
YOU play an integral part in helping us bring Healing & Hope to survivors of domestic violence & sexual assault.
What happens when you donate to one of our PennyWise locations in Greater Houston?
When you donate to a PennyWise Resale Store, you directly support our work in three ways:
Providing families with clothing, furniture and household goods to help them start new, violence-free lives.

You help us provide a quality, reasonably priced product to our community.

When we sell the rest of these donated goods in our stores, that money is directed back into funding our life-saving programs.
What happens when someone donates something unusable or damaged beyond repair?
RECYCLING, that's what happens! Clothing that we are unable to use are recycled with the proceeds then directed back into funding our life-saving programs.
At PennyWise, YOU MATTER and every little bit helps. So keep donating, shopping and changing lives!
We want to hear from you! Let us know about your experience in our stores by leaving your comments for our team today!
PennyWise Resale Store Comments
We are hiring! See open positions and join our team today!
---
Weekly and Special Sales
Resale Rewards is Here!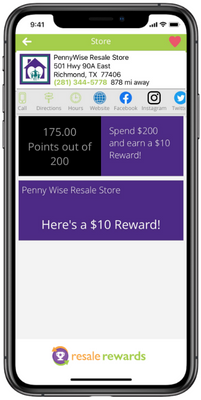 Join Resale Rewards to earn points for BIG DISCOUNTS!
Earn $5 for every $100 you spend throughout the year. Use it right away or save up for something special!
All you need to get started is your phone number! If you have a smartphone, you can track and redeem your points right from the app! You'll also get notified of special in store promotions and flash sales! Go to www.getresalerewards.com to download the app for your Apple or Android phone! No smartphone? No problem! Your points will still add up to big savings! When you check out at the register, just give your phone number and the sales associate will check your account for coupons!
It's easier than ever to earn and redeem points!
 
---