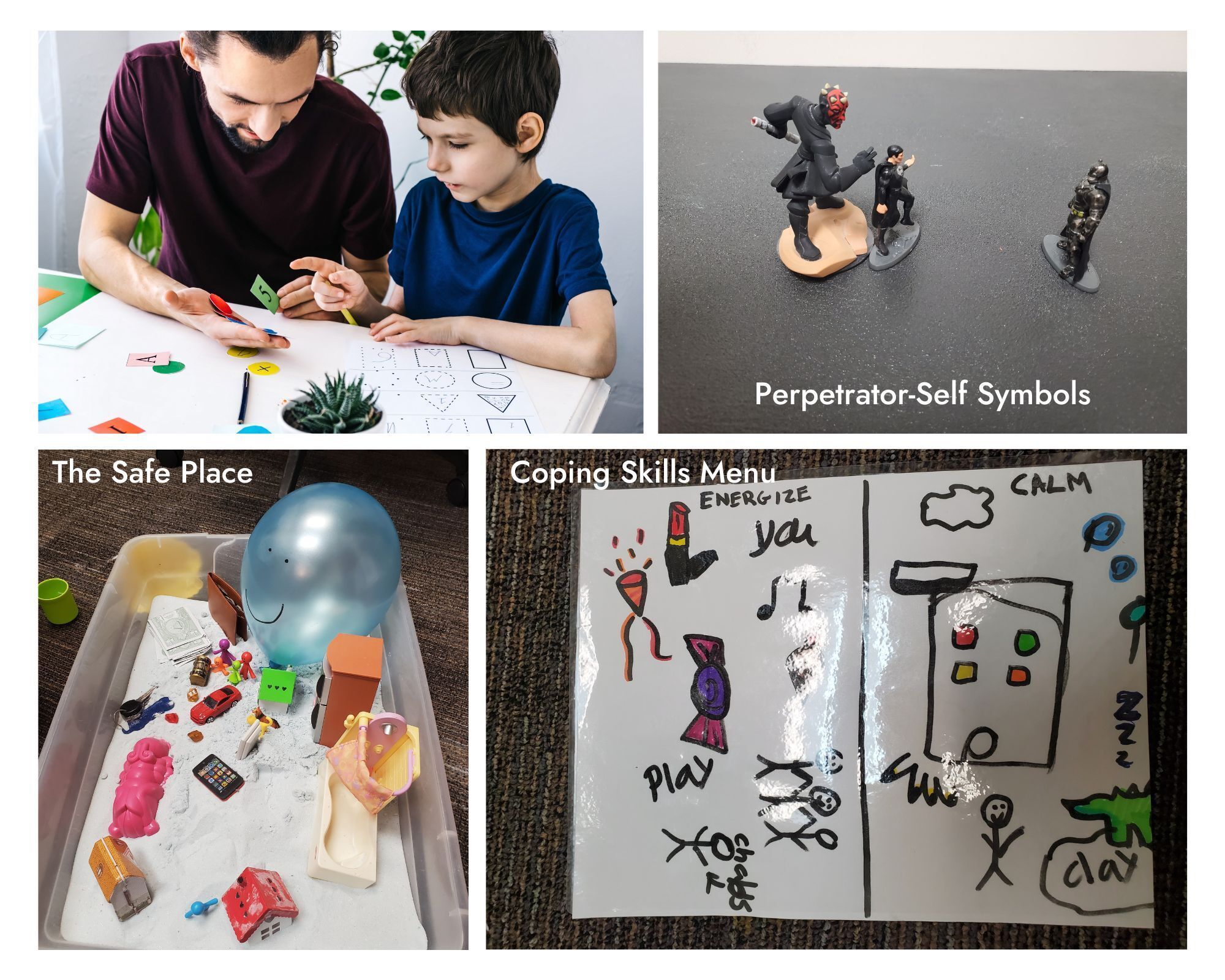 Children are often referred to as the "silent victims" of domestic abuse but the effects on them can be profound leading to emotional and behavioral issues including depression, anxiety, PTSD, defiance or aggression. It can also affect their health, school performance and social development. Child psychologists have found that children under the age of 11 have difficulty manipulating images in their mind and instead process and problem solve using toys. The toys allow children to express their experiences and feelings and guide their own healing process.

Play Therapy Theory recommends toys that fall into three categories: expressive/creative toys, aggressive release toys, and realistic toys. Paris Goodyear-Brown has studied the intersection of trauma and play therapy and she suggests purchasing toys that can be representative of the trauma that happened. It is believed that traumatized children will choose a self-symbol and a perpetrator symbol in their play and play out their traumatic experiences. Play therapists can help them to remove the toxicity of their traumatic experiences by approaching and reframing them in their play.

Play therapy can help children:
• improve their mood and behavior
• reduce anxiety and depression
• better understand and express their feelings
• cope with difficult life experiences

Our youth programs assist hundreds of children each year on their healing journey, but we can't do it without our wonderful donors and volunteers. Support our Youth Programs today at fbwc.org/MU4K
Image Captions:
The Safe Space - this intervention is one where the kids are sometimes read a story about a balloon that travels all over the world and lands in a strange new world. Then they are led through a guided imagery exercise where they imagine they are the balloon and they are carried far away. When they land, they are in a place where they have everything they need. Then they are invited to choose symbols from the room and place them in the sandtray to create a picture of their safe space. They can also do this by drawing or painting a picture.
Perpetrator/Self Symbols – this child had a father who struggles with drug addiction. I read to them a book called "The Addiction Monster" that externalized addiction and gave it a concrete symbol. Then I asked the child to choose symbols to represent themselves, their father, and the addiction monster. In this picture Darth Maul is the addiction monster, Superman is the father, and Batman is the self. We continued to use these exact symbols and we processed the narrative.
Coping Skills Menu – this is a menu of coping skills that the child can take home. Sometimes instead of words, there are symbols that the child draws to represent each thing. Some of the coping skills are skills they already have that need to be identified for specific purposes and practices. For example, "Drawing can be used when I am angry or scared to calm down." Other skills are brand new that they learn and practice in therapy.
Sources:
Play Therapy with Traumatized Children by Paris Goodyear-Brown
The Efficacy of Play Therapy with Children: A Meta-Analytic Review of Treatment Outcomes by Sue Bratton, Dee Ray, Tammy Rhine and Leslie Jones
An Overview of Play Therapy, National Institutes of Health (NIH)